Easter is a fitting time to give you an update about the statue of Jesus in the Limbiķi Cemetery.
Shortly before his death, Mārtiņš expressed his wish to erect a monument in the Limbiķi Cemetery that depicts Jesus with open arms, bringing relief to the sad and heavy-hearted. In the spring of 2021, the artist Ojārs Feldbergs agreed to create this statue. He then found a suitable granite boulder and transferred the original sketch into a life-size model in clay. Despite the weight of the stone, Jesus appears to come towards us with a light step and open arms. The model is currently being cast in plaster, and Feldbergs will soon begin to chisel the statue in stone. It will be installed in the cemetery later this summer.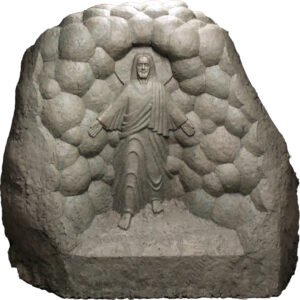 We invite you to a special celebration at Limbiķi Cemetery on August 26 of this year! We will gather at the newly installed statue to celebrate Jesus' promise to bring relief to all who are heavy-hearted and sad. There will be music, speeches, performances and a picnic. On that day, Mārtiņš' last wish will be fulfilled.
We will post detailed information about this event on https://martins.urdze.lv in early August.
But what will follow after the celebrations? We hope that the statue will become a place where people will pause for a moment and contemplate. If you ever pass the town of Grobiņa along the Riga-Liepāja highway, Limbiķi Cemetery is not far from there. In the empty sandy part of the cemetery, where the people of the "Iļģi" social care centre are buried, there will be a statue of Jesus; next to it will be a bench on which to sit and relish the peace and quiet.
The statue will cost approximately EUR 20,000 to build and install. Thanks to the overwhelming response from you, we can confidently say that we will raise the necessary money. Additional funds will however be needed for the landscaping of the monument site. We would therefore be grateful for your donations! Any additional money that is not required for the statue will be donated to the Liepaja Diaconal Centre, which continues to support the residents of "Iļģi" and other people on the margins of society.
Donation Account in Latvia
Liepājas Diakonijas centrs
Reģ. Nr. 40008103059
A/S SWEDBANK
IBAN: LV02HABA0551041046695
BIC: HABALV22
Note: Ziedojums Mārtiņa Urdzes piemineklim
Donation Account in Germany
Ev.-Luth. Kirchengemeinde Osternburg
Landessparkasse zu Oldenburg
IBAN: DE21280501000023405483
BIC: SLZODE22XXX
Überweisungszweck: Lettlandhilfe – Christusfigur – M. Urdze

You will find photos and detailed information about the statue on the website https://martins.urdze.lv/en/jesus-statue-in-the-limbiki-cemetery/